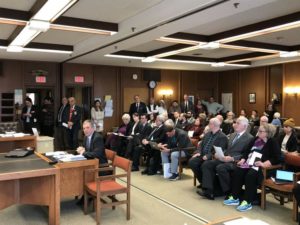 Most recent or upcoming liberty-critical bill hearings:
When the Legislature is in session, this page is updated with weekly posts listing the liberty-critical legislation that will soon have a public hearing in committee. The list includes the date, time, and room number in the Legislative Office Building (LOB) or State House (SH) in Concord.
Influencing a committee's recommendation is important since, roughly ninety percent of the time, the committee's recommendation determines the outcome of the vote on the same bill by the full legislative body during a House or Senate session. The full legislative body ultimately determines whether a bill becomes law.
There are two required committee sessions for each bill. The first is the "public hearing" when members of the public are invited to submit testimony on whether a particular bill is either acceptable or unacceptable. The second is the "executive session" when a committee discusses the merits of a bill, then votes on a "recommendation." Generally, there are three types of recommendations: 1) ITL (inexpedient to legislate), 2) OTP (ought to pass), and 3) OTP/A (ought to pass with amendment). Amendments are submitted by a member of the committee then voted upon by the full committee.
The NHLA will likely take a position on the bills listed at the links above and encourage written correspondence to and testimony before the relevant committee, though the bills may not necessarily be included in the Gold Standard. The schedule of every hearing is published on a weekly basis in the House and Senate calendars.
If you would like to testify before a committee, in-person or through written correspondence, and would like assistance, please don't hesitate to contact our Political Director at political@nhliberty.org.