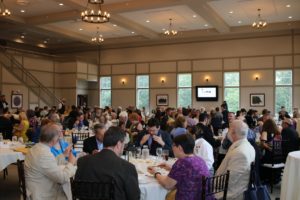 The NHLA Liberty Dinner will be held on Saturday, July 13, 2019 at Grappone Conference Center, 70 Constitution Ave, Concord, NH 03301. This year's theme is "Taxation is Theft"!
Attend this event to be among the first to see the 2019 Liberty Rating!
At the cocktail reception beginning at 6pm, you can schmooze with the NHLA board, our esteemed legislators, and other NHLA members. There will be a cash bar at your service and hors d'oeuvres will be provided.
Join us for a plated dinner beginning at 7pm (with choice of beef, fish or vegetarian entree), dessert, and a cash bar. Legislators and Full or Lifetime members receive reduced pricing.
We will also award the Activist of the Year and the Legislator of the Year!
Our featured speaker, Dan Mitchell, will give the keynote address "Taxes: the Good, the Bad, and the Ugly". Dan Mitchell is Chairman of the Center for Freedom and Prosperity, a pro-market public policy organization he founded in 2000. His major research interests include tax reform, international tax competition, the economic burden of government spending, and other fiscal policy issues.
Stay with us after dinner as we unveil our 2019 Liberty Ratings and announce our silent auction and raffle winners!
Tickets can be purchased here.